Whether you call it the "T1000", "DMAX", "UMC", "AFC", "gold shelf", "ivory shelf" or "the thing with the blue LEDs", you can also add "tough", "durable" and nearly "indestructible" when describing the Tellabs 1000 Multiservice Access Platform (MSAP). We regularly hear stories about it surviving gun shots, hurricanes, and car crashes, but what happened in Oregon late last summer represents another testimony to its durability.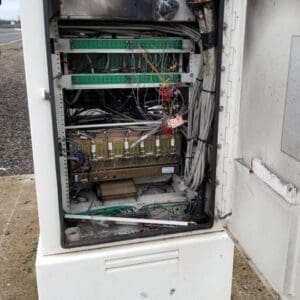 The 2020 wildfire season was one of the most destructive on record in the state of Oregon. The two largest fires were the Lionshead (204,469 acres) and the Beachie Creek (193,573 acres) which merged causing great difficulties for local fire fighters and the communities they impacted. It was at the Lionshead/Beachie fire that an outdoor remote cabinet housing Tellabs 1000 MSAP equipment burned as did many others. Months later, after the service provider technician cleared the burn debris, and rebuilt the damaged AC power supply of the cabinet, the whole T1000 system started right back up. The network operator techs we're very impressed with how the T1000 continued to operate and commented how it "shows the resilience" of the equipment.
We know the Tellabs 1000 MSAP is a long-standing workhorse for telecommunications service providers because of its:
Quick installation of a single shelf for all your service needs
Easily grow your network with simple card adds or shelf expansion
Comprehensive services from analog specials, T1, VDSL2 to 10 gigabit Ethernet
Better yet, its carrier-class reliability is designed into the Tellabs 1000 MSAP and is a critically important trait. This extremely dependable access networking platform is responsible for connecting businesses and residents with lifeline telephone services, 911 call centers, internet-based medical resources and broadcast news sources. In times of emergencies, like fires, hurricanes, and floods, the T1000 provides vital communications for first responders, essential businesses and the local residents impacted.
If you would like to stay up-to-date on Tellabs Broadband milestones, you can connect with us on our social media outlets, such as Facebook, LinkedIn, Twitter, Instagram and YouTube.