Be sure to connect with our Passive Optical LAN specialists (booth 417) at the Manufacturing & Technology Show on November 9th through 11th at the Huntington Convention Center in Cleveland, Ohio.
Tellabs, and our partner UberData Networks, will be working hard educating the manufacturing design and engineering community on how Passive Optical LAN enhances the future of manufacturing operations. We will be focused on explaining how a fiber-based network can help manufacturers achieve maximum operational simplicity, scalability, sustainability and savings as they modernize their networks in response to Industry 4.0 and Industrial Internet of Things (IIoT) demands.
Do you know the quantifiable benefits of fiber cabling versus copper cabling for manufacturers?
Come by booth 417, and we can discuss the tangible advantages of an Optical LAN. While you are there, you can submit your best estimation of the net weight reduction of the copper-based CAT6 cabling eliminated from an actual 270,000 square foot facility when an Optical LAN replaced a traditional network design. The person that submits the closest estimate will win a drone.
If you're interested in this topic, we invite to you watch this webcast replay of our case study of SK Food Group, a major custom food manufacturer, that has implemented a successful conversion of their nine (9) U.S. and Canadian facilities to Passive Optical LAN – by viewing the video you might just gain some clues to the "net weight reduction of the copper-based CAT6 cabling" question!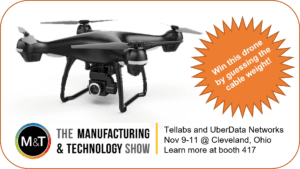 We also invite you to connect with us on Facebook, LinkedIn, Twitter, Instagram, and YouTube  to keep current with Passive Optical LAN related news.