After about a year-and-a-half formal proposal process, the Greater Orlando Airport Authority (GOAA) held a public forum where the Council evaluated three Passive Optical LAN vendors considering three categories – Qualifications, Product Capabilities, and Price.
The outcome of this major international airport evaluation is for GOAA to choose a Passive Optical LAN (POL) equipment manufacturer for its new South Terminal C at Orlando International Airport, the existing North Terminal at Orlando International Airport, the Orlando Executive Airport, and all other facilities operated by the Authority.
Overall, the proposal evaluation vote from the GOAA yielded Tellabs as the recommended awardee, pending legal review of all documentation.  Below is a quick summary of the evaluation's deciding factors and findings: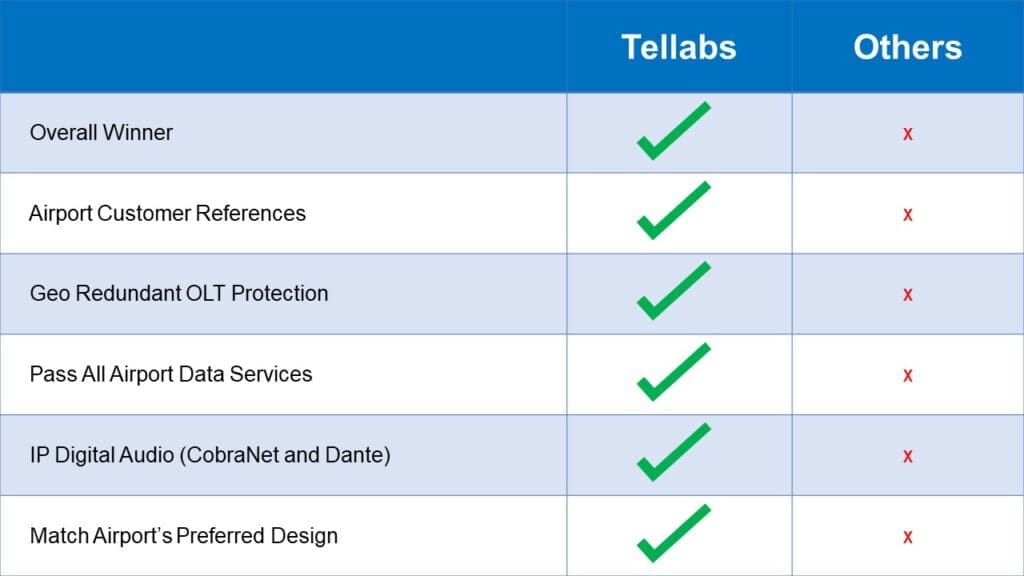 With four major international airports already under our belt, we are very excited to be moving forward with GOAA as a new customer, and when these Orlando Airport POL projects get started, we intend to "knock it out of the park" just like we did on the proposal!
A complete recording of the April 29, 2020 GOAA public forum read-out can be viewed on the following YouTube link – click here to listen.
For more information about the Tellabs Optical LAN system approved and awarded by GOAA, you can access this recent news release.
If you would like to stay in touch with Tellabs' advancements, you can connect with us on your favorite social media outlet, such as; Facebook, LinkedIn, Twitter, Instagram, and YouTube.