Tellabs FlexSym® OLT-mini, using a Passive Optical LAN design, offers Coastline Church unique benefits for network design, security, and IT staff operations in support of their expansive multi-use property.
Coastline Church is located in picturesque Carlsbad, California, near the sun-drenched beaches of the Pacific Ocean. It is situated on an expansive parcel with three buildings spread across seven beautiful acres. As a multi-use property, it is common that the church hosts groups of over 700 people. These community gatherings can occur every day throughout the week, so not just on Sundays. Since this region enjoys the perfect Mediterranean climate associated with San Diego County, the Coastline Church events can be both indoors and outdoors.
All these wonderful qualities may sound ideal, but they come with their own set of challenges relative to building and operating a contemporary wired and wireless network to support modern church-going activities. It can be quite difficult for a multi-use property to deliver high-performance connectivity, ubiquitously across wired and wireless means. Difficulties can be introduced by bandwidth, density and reach issues. It is imperative that the Coastline Church provides its members, guests and employees with the safety and security that their reverent occasions deserve. In addition, the limited IT staff tasked with operating and maintaining the network needs to do so with minimal interruptions and interventions.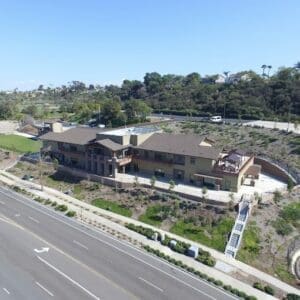 It is based on these needs that the Coastline Church chose to deploy a Passive Optical Local Area Network (LAN) design with the Tellabs FlexSym® OLT-mini as the centralized headend equipment in the main data center. This combination of Tellabs® Optical LAN, with the Tellabs FlexSym OLT-mini PLUS, is the better way to build and operate their network because it offers:
Flexible Design Options
Strict Safety and Security
Limited IT Staff Touches
The purpose of this paper is to showcase the Tellabs FlexSym OLT-mini equipment, and greater Tellabs Optical LAN tangible benefits, and how these unique qualities helped Coastline Church relative to their network design, security and IT staff operational needs.
Flexible design options
Coastline Church hosts events indoors and outdoors, across multiple buildings, and online – often all at once. Whether it is global missionaries joining the Sunday worship service, or out-of-state grandparents viewing a wedding virtually, the church strives to provide an equal experience for all. With that great Southern California climate available, these events can happen both indoors and outdoors, so connectivity choices need to be available either way. Additionally, with three buildings spread across seven acres, this quickly can break the reach limitations of gigabit Ethernet over copper cabling that has a distance limit of 300 feet.
"The Coastline Church has hybrid events that are both in person and online. We often have global missionaries, plus out-of-state friends and family that we need to stream our services to them," said Josh McCaskill, Coastline Church Executive Director. "We have large area outside and this wonderful San Diego climate. During covid we moved outside found people enjoyed that, so now we offer both inside and outside seating. It's great to have the flexibility to simultaneously connect in this hybrid environment."
It was the above design criteria that persuaded Coastline Church to choose Passive Optical LAN, based on Passive Optical Networking (PON) technology, and the Tellabs FlexSym Optical Line Terminal (OLT). The Tellabs FlexSym OLT-mini solution installed at Coastline Church consisted of wall mounted Tellabs FlexSym OLT-mini PLUS. The FlexSym OLT-mini PLUS is equipped with the Tellabs FlexSym Optical Interface Unit Two (FlexSym OIU2) that is a 2-port PON service module and 4-port Ethernet. At the network edge are the Optical Network Terminals. Coastline Church chose the Tellabs 140C Optical Network Terminal (4-ports of gigabit Ethernet) and Tellabs 180C Optical Network Terminal (8-ports of gigabit Ethernet). It is these ONTs that provide the Power over Ethernet (PoE) to the subtended Ethernet devices (e.g. Wi-Fi access points).

It should be noted that the FlexSym OLT-mini series has options for rack mount, wall mount and outdoor weatherproof enclosure. The FlexSym OIU2 provides a choice of gigabit Ethernet or 10 gigabit Ethernet uplinks. The FlexSym OIU2 also support options for either ITU-T 984 G-PON and ITU-T G.9807/G.987 XGS-PON symmetrical 10 gigabit technologies. And, when deploying 10 gigabit XGS-PON, the Tellabs FlexSym ONTs can be equipped with multi-gigabit Ethernet that support Ethernet speeds of 1G, 2.5G, 5G and 10G.
For the Coastline Church initial installation (e.g. large meeting spaces inside and out, classrooms, plus administration offices), the OLT is wall mounted, the Internet uplinks are gigabit Ethernet, the PON version is G-PON, the ONTs are G-PON and those G-PON ONTs have gigabit Ethernet ports. All of which is managed via the Tellabs® Panorama™ PON Manager.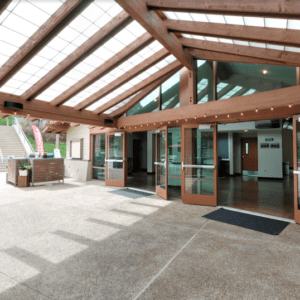 Start Small with the ability to Scale – The OLT-mini PLUS offers a rack or wall-mounted chassis options supporting up to five FlexSym OIU2 cards equipped with two PON ports each. PON cards can be added as needed and gives Coastline Church the confidence that the system can grow over time. If this OLT-mini PLUS was fully loaded with ten PON ports, it could easily support over 1,200 Ethernet connections – a true pay-as-you-grow business model!
Capacity for Today and the Future – The OLT-mini PLUS is equipped with the Tellabs FlexSym OIU2 that is a 2-port PON service module and provides four SFP+ 1 gigabit or 10 gigabit Ethernet interfaces so either G-PON or 10 gigabit XGS-PON. The church chose G-PON, but still has the 10 gigabit XGS-PON available for future capacity growth.
Extended Reach across Expansive Property – These products offer extended reach across a PON infrastructure that can stretch 12 miles. Connectivity can then be extended further with the integrated Ethernet uplinks (either 1 gigabit or 10 gigabit Ethernet) that can span additional miles and be daisy chained to cover even greater distances. This extended reach can cover plenty of distance across Coastline Church's seven acre property when needed.
Both Indoors and Outdoor Connectivity – This product portfolio offers extended temperature ranges -40 to +65 Celsius and an option for a weather-tight enclosure. This provides customers with flexibility to install these products using pole and wall mounting choices in harsh, wet and dirty environments. Currently, the OLT is installed indoors, but can be utilized in an outdoor enclosure if needed.
Strict security
The safety and security of congregants, visitors and employees is a top priority to Coastline Church. The nature of the events hosted are often highly personal with sensitive information exchanged. It is the duty of the church staff to provide a safe, private and secure experience for worship services, weddings, funerals, baptisms, school and community events.
"The reliability of our security cameras and systems means families and children are safe here," stated McCaskill. "We already knew that fiber cabling was better than copper, yet when Tellabs Optical LAN was presented to us, we were reassured that the cybersecurity advantages of this fiber network meant we can also ensure the safety of families' data and of our employees."
Tellabs Optical LAN solutions play vital roles in providing a more secure LAN where security policies and procedures are implemented consistently, with fewer human errors across a more reliable network. Optical LAN ensures a zero trust environment with a significantly reduced attack surface.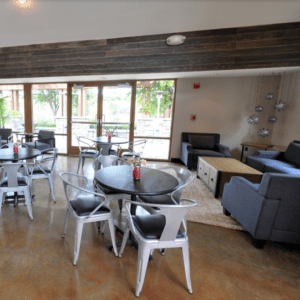 Fiber is more secure – The optical plant, also known as the fiber cabling infrastructure, can make significant contributions to overall security. Fiber optic cabling is more secure than copper cabling. Fiber is not susceptible to interference nor does it introduce interference. With fiber, you have no cross-talk, nor electromagnetic concerns.
Fewer security gaps – Optical LAN significantly reduces the network's attack surface. An attack surface is the sum of the possible network points of entry where malicious actions can occur. Optical LAN eliminates these known security gaps by having only one management interface (one IP address) for the total network. A traditional network might have hundreds of management interfaces (IP addresses) located at unsecure switches haphazardly positioned. Furthermore, statistics confirm that most security lapses are due to human error, and because Optical LAN has far fewer network access points to secure, the probability of human error and data breaches are greatly reduced.
Ideal for Zero Trust Architecture – Zero Trust is a security model, a set of system design principles, and a coordinated cybersecurity and system management strategy based on an acknowledgement that threats exist both inside and outside network boundaries. Tellabs Optical LAN is an ideal architecture for networks following the Zero Trust model because it follows the principals of granular access, least privileges, policy enforcement point, shrinking implicit trust zone (e.g. reduced attack surface), monitoring access and micro-segmentation.
Limited IT staff touches
The reality is that Coastline Church has a small IT staff. If this was a corporate business, they would likely employee larger IT and networking team. This means that the existing highly-qualified IT staff needs to be extremely efficient with their interaction with the network management, underlying electronic equipment and infrastructure.
"Certainly, larger corporations can hire more staff for security and IT department needs, but we operate a small support team here," commented McCaskill. "What our IT staff needs is a no-touch and self-healing network. Once the Tellabs FlexSym OLT-mini was installed, we haven't had the need to touch it nor the ONTs."
Tellabs Optical LAN and Tellabs Panorama PON Manager creates network efficiencies by promoting automation with global policy profiles for machine-to-machine actions that limit human-to-machine actions in support of the digital workplace. Mission-critical yet repetitive operational tasks can be effectively reduced to zero dollars; with centralized intelligence and management quick views, fast isolation and easy drill-down uncovers root causes and speeds resolution is optimized to simplify the true enterprise digital transformation.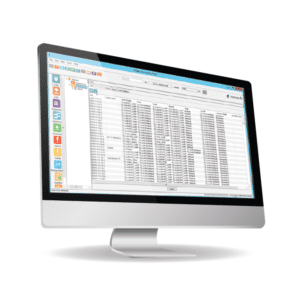 Automate Network Operations – The goal of Tellabs Optical LAN and Tellabs Panorama PON Manager is to improve IT efficiencies with automation that increase the speed of LAN installations, configurations, global policies, monitoring, troubleshooting and every day moves-adds-changes (MAC), while reducing human error and security risks. Tellabs Panorama PON Manager is a major contributor to how Optical LAN speeds the daily MACs while reducing human errors. Ultimately the Tellabs Panorama PON Manager helps the Coastline Church personnel to work as efficiently as possible while minimizing initial training impacts and ongoing professional re-certification that can often pull IT staff away from their job tasks.
Software Defined Network Management – Optical LAN enables software-defined resources to be dynamically allocated based on real-time needs. When services and applications (e.g. data, voice, video, WAP) traverse the Optical LAN, bandwidth, Quality of Service (QoS), Network Access Control (NAC) and Power Device (PD) management happen automatically. Bandwidth is assigned on a per-service, per-port, per-end-device and per-user-basis as part of the provisioned Service Level Agreement (SLA) attributes. This is all managed through global policies and templates, which ensures consistent, repeatable and error-free operations.
Take Advantage of the ONT's Inherent Efficiencies – Optical LAN ONTs are designed with no local management access because there is little need for human touch. The ONTs are basically simple optical-to-electrical terminals, and they can deliver all the connections, services and applications required for an Optical LAN. They are highly reliable and secure, which ultimately helps limit IT staff touches and thus improve operational efficiencies.
Tellabs FlexSym OLT-mini delivers Coastline Church a better way to build and operate networks
Tellabs Optical LAN, with the Tellabs FlexSym OLT-mini PLUS, has enabled Coastline Church to overcome the challenges of building and operating a modern wired and wireless network. Optical LAN, and the FlexSym OLT-mini, helps Coastline Church solve bandwidth, density and reach issues today and into the future.
"The future-proof aspect of the Tellabs FlexSym OLT-mini and Passive Optical LAN is very exciting for us," expressed McCaskill.
Tellabs FlexSym OLT-mini offers unique flexibilities for small deployments, properties with long reaches across indoor and outdoor spaces. For the Coastline Church, it exceeded expectations for members, guests and staff. Simply stated, the FlexSym OLT-mini delivered a better way to build and operate their contemporary church network.